The last two weeks we have seen our world change enormously, in ways we could not comprehend a few days ago. COVID-19 is challenging our health systems, our economies and indeed our very way of life. Please check Enovation's response to this crisis.
Microsoft engaged with Enovation for the development of a solution to facilitate the creation of Teams Meeting within Moodle. Enovation developed a new
Atto Editor plugin
that calls the
Microsoft Teams LMS Meetings app
, so Moodle users can quickly add a new meeting link into all Moodle activities that uses this text editor.

Integration Details
Moodle users with Microsoft accounts can create audio and video conference calls (meetings) using the Atto Teams Meetings plugin for Moodle, for free (Microsoft Teams is included in Office 365 A1, which is free for educational institutions). The plugin provides an easy way to create a Microsoft Teams Meeting from within the Atto Editor wherever it's available, for example: calendar events, forum posts, pages, or assignments.
It's important to note that it will not display the events in Microsoft Teams Calendar, but you can add the link to Moodle calendar events.
Getting started
Install
the
Atto Editor plugin
to your Moodle site, initially compatible with versions 3.5, 3.6, 3.7 and 3.8. If you don't have permissions to install plugins, ask your Moodle partner to install it for you.
Add the button to your Atto editor via this page: /admin/settings.php?section=editorsettingsatto (Site administration > Plugins > Text editors > Atto HTML editor > Atto toolbar settings)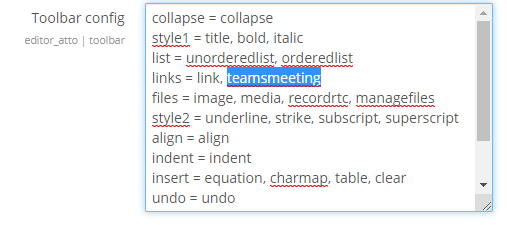 General information about enabling Teams for your educational institution can be found
here
.
Visual Guide* to Moodle + Teams Meetings
1. When editing description using the Atto Editor, click on the Microsoft Teams  icon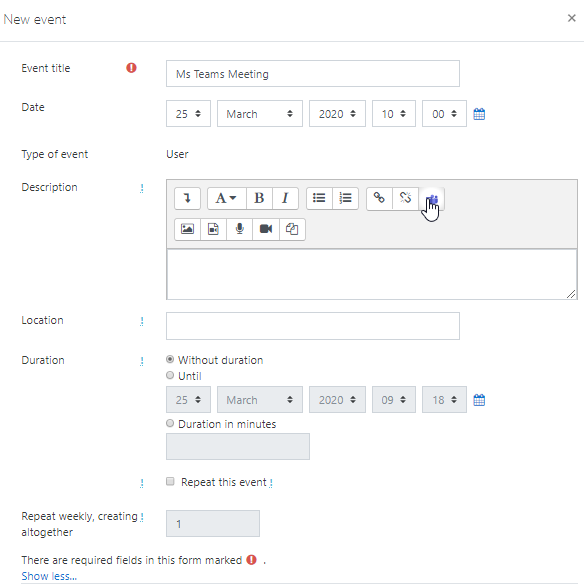 2. Then select  Create meeting link  (you will need to sign into your Microsoft Teams account the first time you use it).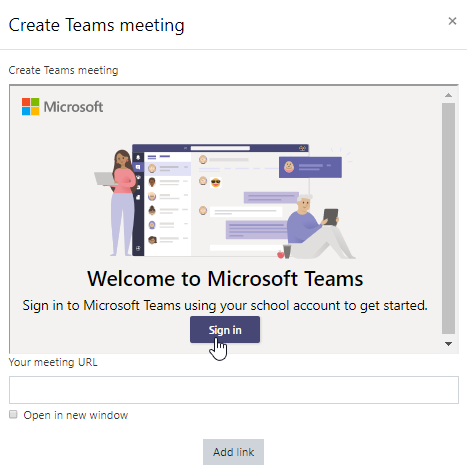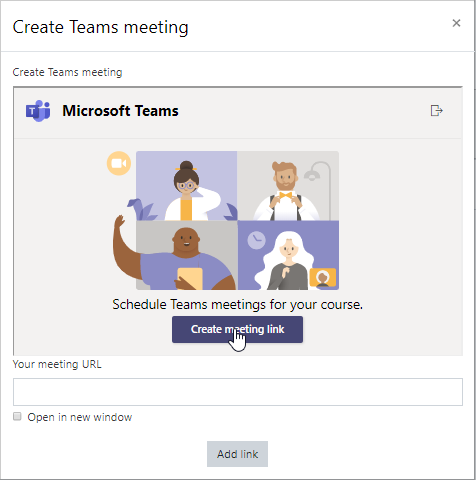 3. Enter a meeting title, date, and time, then click Create. The link will show in the field "Your meeting URL".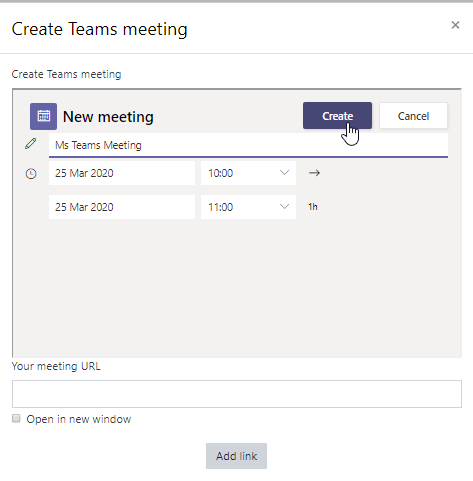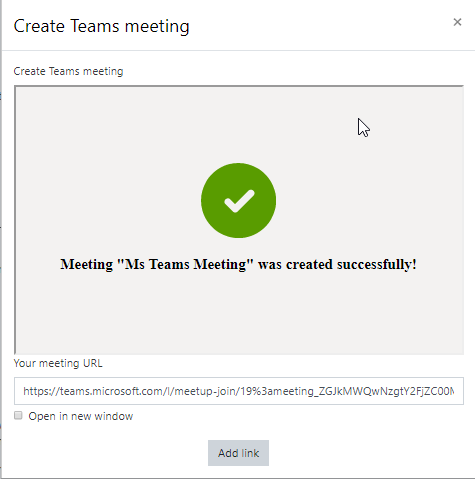 4. Mark "Open in a new window" if you want the meeting to open in a new tab and click "Add link".
Now the meeting link will appear for students in the description of Calendar events, Assignments, Forums posts, or wherever else in Moodle that uses Atto Editor.
In order to avail of this new feature within Moodle, please contact the team at [email protected] .